Conquer Your Fear of Public Speaking in 6 Simple Steps…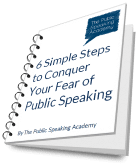 Grab yourself an exclusive copy of '6 Steps To Conquering Your Fear Of Public Speaking', packed with anxiety breaking techniques.
And we'll sponsor 80% of your place on the next 'Fear of Public Speaking Masterclass' too.
We hate spam as much as you do – we will never share your details with anyone. And you can unsubscribe at any time.
.